Back in 2014, we were on a family vacation when we lost our beloved pet… a Jack Russell named Snoopy. This was not the type of lost as in we'd ever get him back… but the kind that makes one do some soul searching as to what direction life would take in terms of dogs in our home.
Rewind about 6 months, we were sitting in our home office contemplating starting a kennel. My wife had always loved large breed dogs, I was more the Jack Russell type. But doing research one evening, we realized, that being hunters, maybe we should consider breeding and training hunting dogs. We had two Jack Russel dogs at the time and decided that when the time came for one of them to go to the big hunting grounds in the sky… we'd start our kennel. Until then, we'd do research and training of our own.
It was an unexpected illness that struck our old Snoopy… and we were at the Grand Canyon in Arizona. By the time we realized how bad it had gotten, we frantically searched for a vet. Finding none around the town, we left our camper in the city camp and drove 80 miles away to find a vet clinic. The news was sad as they told us there was nothing they could do for him. With tears in our eyes, we held Snoopy until he breathed his last, then left the clinic to head the 80 miles back to our camp. We drove in silence, each of us mourning in our own way, and once in a while, someone would speak up about a memory, then we'd all cry again. Losing a family friend is so hard.
During the next few days, we spent healing time praying and walking the rim of the Grand Canyon, healing from the loss of a good friend. The ride back to North Idaho loomed ahead of us. It would be weird to return home to our other Jack Russell without Snoopy.
On the fourth night after leaving the Grand Canyon, we all had a dream about a Labrador puppy. Breakfast was funny as we all discussed our dreams. We laughed saying it must have been Snoopy who sent us the idea that maybe it was time to consider our kennel. Shrugging it off and laughing, we began the day's drive. About midday, we passed a billboard of a Labrador kennel in Utah that we had been researching for 6 months. Last we'd checked, there were no pups left, but then again, you never know if one of the depositors will back out… so after we arrived at the evening's camp, we decided we would call the next morning. If there was a pup, it would be our sign.
To our surprise, the man who answered said that he had just received a call from the 2nd pick male. He had to wait to the next litter due to job/housing complications that were unforeseen. Was it fate?
Needless to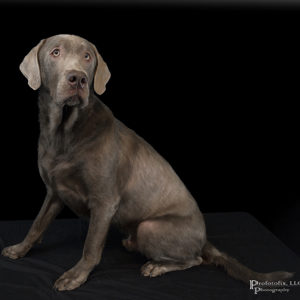 say, we did take the pup and thus began our journey with labs. Cash Money Kennels was born with our first Labrador Retriever, Cash Money Cody Boaz. We worked with Cody on basic training for a few strong weeks, then incorporated hunting techniques, both verbal and nonverbal. By fall season, he was in the blind and retrieved his first duck at just 5 months.
Sadly, at 7 months, after his first season of hunting, our pup began to limp a bit. We couldn't determine any reason he might be limping so we took him to the vet who x-rayed our pup and promptly determined that he had no hip sockets at all. This was possibly one of the worst cases of dysplasia he'd seen as the ball of the hip butted against the pelvic bone with no socket for the ball to sit in. We scheduled his neuter right away knowing that a responsible pet owner, let alone breeder, wouldn't want to allow this trait to pass on to another litter. We decided Cody would live out his life as our kennel mascot, and the Master Hunter of our pack.
We contacted the original breeder who had guaranteed his pups for up to 2 years. He had stopped breeding labs, but because of the terrain of his training environment, had started breeding Slovakian Rough Haired Pointers… a Versatile European breed that has only recently made its way to the United States. They are excellent hunting dogs for field hunting.
We began studying the breeds and agreed that we would offer the two breeds only. The Labrador Retriever for the waterfowl hunter and the SRHP for the versatile hunter. We respect their individual breeds and the jobs they are bread to perform. Both breeds are amazing dogs for their prospective hunting venue, and both make amazing family dogs.
When the SHRP was old enough, we got her tested for hips and elbows and although her elbows were soon certified, we learned that her hips were rated only fair and she was not able to be certified, a sign of irresponsible or overbreeding. Again, after years of working with the dog we found out she was not a good candidate for our breeding program and had her modified.
With the heartbreak of these experiences, we started researching our dogs more thorougally and paid attention to both breeders and breeding stock of the litters. We now only breed labradors, and our labradors have both sweet, loyal and loving temperaments, but are also all avid waterfowl hunters.
Our dogs are a very special part of our family, and we take placement seriously. We do screen prospective buyers and breeders to ensure responsible practices and the well being of the pups. Please feel free to peruse the site, get to know our dogs and let us know if you're interested in pups or services.